****Note: Aunt Flo has not visited me for two years to be exact on October 27, 2008 - she is due back for a visit in the next few days, so I feel my hormones and emotions stirring up like crazy. Thus, the need for a little venting here!*****
Ok folks, so the debate last night, was it not pathetic? I don't think either of these candidates are qualified to be president at this time of National Crisis and the Economic cancer we are facing. They both talk about the same old things, and it drives me crazy. Yes, I agree we need change, but not the way that Obama sees it. For example, I am freaking out as I see the savings Speen and I have saved over the past 5 years dimish in almost half. Obama wants to raise taxes and I think it is ridiculous that he should want to raise taxes at a time like this. Well, think for a minute about the people who are wanting to retire and half their retirement has diminished in the last three months. So, they decide they can't retire now, so they decide they will work 5 more years. Well, with Obama in office, they now have to work more years to regain their retirment loss but then even more of their money gets taken away in taxes. So now they have a two edge sword going against them - their money sinking with the economy and the increase of taxes they have to pay. Is it fair that the hardworking people in America have to give up more money? I think not.
What is this picture of you ask? This beautiful resort where people like Julia Roberts go to hang out? Well, this is what we - the American people - are paying for. We are paying for wall street crooks to go an enjoy themselves in beautiful posh resorts with our tax dollars. Who, you ask?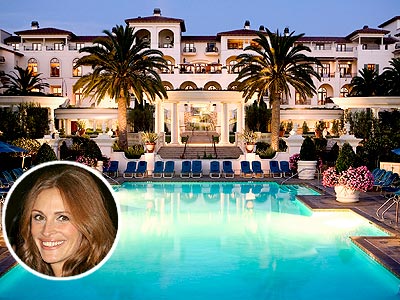 AIG took their company executives on a $440,000 posh retreat DAYS after they got an $85 BILLION dollar loan from the government. And in order to pay for this retreat they had to tap into that government loan. They spent the money the following ways:
Over $200,000 in rooms (yep, they cost over $1,000 per night!)
$150,000 in food and banquets
$25,000 on bar expenses
$23,000 spa treatments
$15,000 at the salon - getting manis and pedis
. Are you kidding me? The only way I see the dow rebounding is if we put these crooks into jail.
INTO JAIL I SAY!!!
Which bring me to my latest point - the solution. I think that we need a real "maverick" on the economy as President. So, my opinion is that Mitt Romney needs to pull a Joe Lieberman this election.
Joe Lieberman lost his run for re-election as a democratic senator in the 2006 democratic primaries. So what he decided to do was run as a third party "independent" for the election, and WON!!! So, I say Mitt Romney steps in as the independent party since the real issue 99% of Americans really care about is the Economy and let's get someone in there that actually knows a thing or two about it and can help fix our crisis.
GO ROMNEY!!!